Buy Cars Online from the Comfort of Your Miami Home
---
Utilize The Collection Porsche's Digital Retailing Tools to Save Time & Shop Online
We love seeing South Florida shoppers visit The Collection Porsche for their next car, but we also know how valuable their time is. That's why our Porsche dealership in Coral Gables, FL offers useful digital retailing tools to buy your next car online.
Save time by buying cars online in your Miami home! Get instant upfront pricing and personalize your ride and payment plan with The Collection Porsche today! Miami shoppers can follow these simple steps below to purchase their next car online.
Step 1:
Choose Your Vehicle
South Florida shoppers can browse our new Porsche inventory for the latest luxury sports cars and SUVs, ranging from the Porsche 911, Porsche Cayenne, and more. Our pre-owned inventory also features budget-friendly options for Coral Gables customers looking to save. You can even build your own Porsche online! Select a new Porsche to custom order with the help of one of our vehicle concierges.
Shop Inventory
Step 2:
Pricing
Unlock The Collection Porsche's instant upfront pricing. Our transparent pricing approach ensures Miami customers get the lowest prices at fair market value along with the best available leasing and financing terms. Trading in and trading up? We conduct fair appraisals to maximize your trade-in value! The deal sheet we send over will outline each detail of your purchase, including cash, finance, and lease alternatives.
Step 3:
Trade-In
Utilize The Collection Porsche's Kelley Blue Book Value Your Trade tool to find out how much your car is worth, regardless of its make, model, or condition. Miami customers can redeem their Kelley Blue Book Instant Cash Offer with their online purchase from our Coral Gables, FL dealership. This means you can make a sizeable down payment and have less to finance.
Get Your Trade Offer
Step 4:
  Credit & Documentation
Complete our online credit application so you can get pre-approved for financing. We want to provide you with an auto loan that fits your car purchase and your budget. Miami customers will need to upload a driver's license and valid insurance card. Your final deal sheet will detail credit eligibility. Remember, The Collection Porsche works with South Florida shoppers who have bad credit or no credit, too!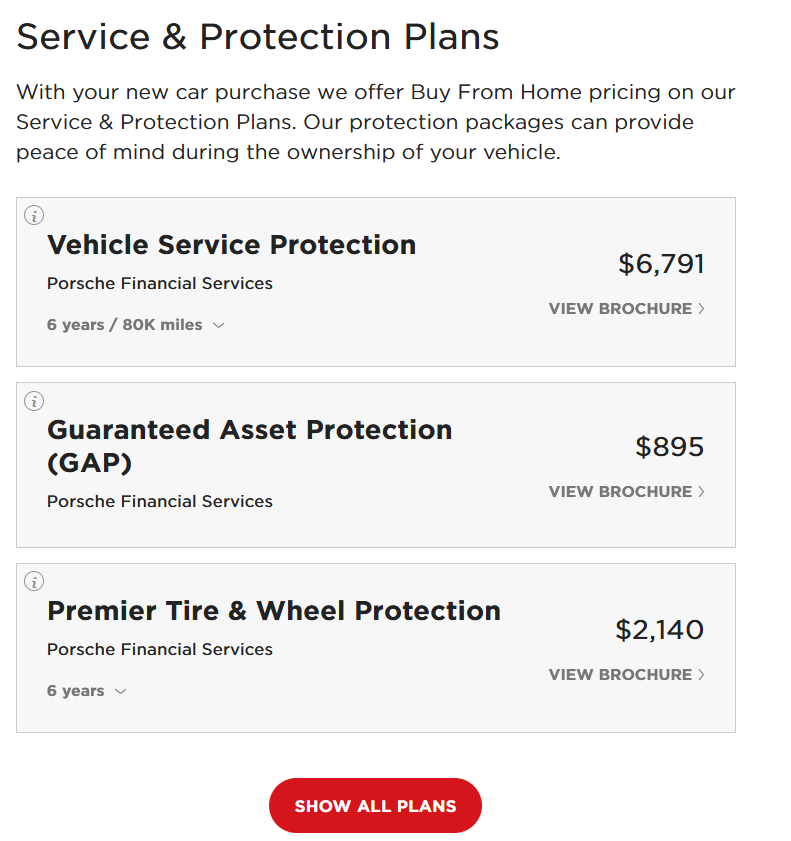 Step 5:
  Final Review
Miami customers can review the final deal sheet and then accept the offer.
Step 6:
Delivery
Pick out the most convenient time for us to deliver the keys to your new car! We can arrange for delivery to your Miami or Coral Gables, FL driveway, where you can take a final test drive and learn the exciting features of your new car. Save time and buy online with The Collection Porsche today!
Questions about the "Buy From Home" process? Let us help.
Fill out the form below or give us a call at (305) 444-5555.
* Indicates a required field